Social implement Laboratories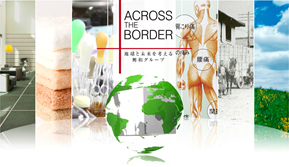 Since its founding in 1894, Kowa Group has grown with more than a 100-year history. The Kowa Group, which has its bases and markets at home and abroad as a conglomerate enterprise compounded of manufacturers and trading company, has developed activities in various business fields. In the pharmaceutical division, we research, develop and manufacture OTC drugs, life support products, dietary supplements, drink, medical device and ethical drugs to contribute to your better health and more comfortable life.

Taking advantage of the clinical development experience worldwide in nanomicelle-type pharmaceutical, in collaboration with the National Cancer Research Center, we are challenging to research and develop novel antibody-conjugated nanomachines to establish the therapies targeting refractory cancer such as brain tumor where urgent medical needs exist.