Members
Paraiso, West Kristian Dizon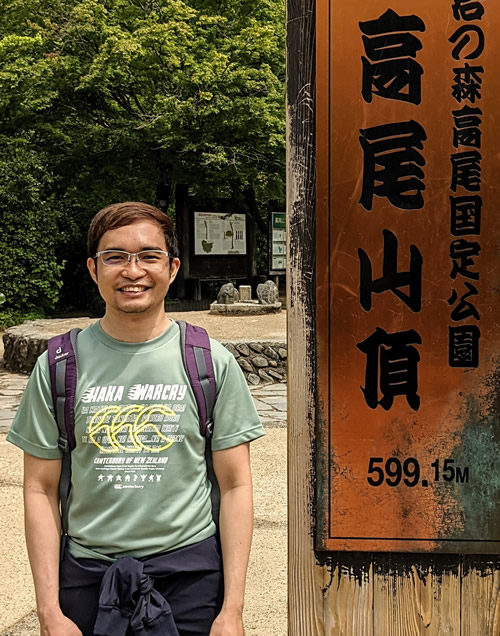 Research contents (Research key words)
Keywords
Nanomedicine, cancer therapy, drug delivery systems, molecular pharmaceutics
Research interest
I was originally interested in the synthesis and analysis of biologically active small molecules but shifted to nanomedicine when I moved to Japan for graduate research. My doctoral research dealt with liposomes and gold nanoparticles for cancer photothermal therapy. Then at a previous work experience, I was trained in the in vivo imaging of small animals.
At iCONM, I have the opportunity to combine several of these interests. I am currently working with Dr. Sabina Quader on a Japan-Spain joint undertaking called COnCorD (Cpt Obesity Cancer Drug delivery). In this project, we collaborate with Dr. Rosalía Rodríguez-Rodríguez from Universitat Internacional de Catalunya (UIC-Barcelona) on developing a novel nanomedicine-based approach to fight obesity and cancer. The molecular target is the brain CPT1 enzyme expressed in glioma cells and hypothalamic neurons. The work entails the synthesis of enzyme inhibitors, the assembly of polymeric micelles as the delivery platform of these molecules, and the evaluation of these systems on in vivo models of glioblastoma and obesity.
Biography
Career Profile
2019 - present

Research Scientist, Innovation Center of NanoMedicine (iCONM)

2018 – 2019

Scientist, MediGear International Corporation

2017 – 2018

Technical Assistant, Hokkaido University

2014 – 2017

Doctoral Student, Hokkaido University
Performance
Publication
Paraiso, W.K.D., Tanaka, H., Sato, Y., Shirane, D., Suzuki, N., Ogra, Y., Tange, K., Nakai, Y., Yoshioka, H., Harashima, H., and Akita, H.,  Preparation of envelope-type lipid nanoparticles containing gold nanorods for photothermal cancer therapy, Colloids and Surfaces B: Biointerfaces, Vol. 160, pp. 715-723, Dec. 2017., https://doi.org/10.1016/j.colsurfb.2017.10.027
Aniñon, A.D.A., Binos, R.S.R., Brizuela, K.M.M., Corpuz, M.C., De Luna, W.J.E., Del Rosario, R.P.S., Dimalala, J.J.C., Dueñas, T.J.P., Linatoc, I.I.B.,Recto, J.P.D., Salinas, M.V., Paraiso, W.K.D., 2014. Spectrophotometric Determination of Losartan Potassium in Tablets. Science Diliman Vol. 26, No. 1, pp. 41-52, Jan. 2014
Paraiso, W.K.D., and Alea, G.V., Synthesis and In Vitro Antimycobacterial Activity Determination of Phthalimide Derivatives. Manila Journal of Science Vol. 8, No. 2, pp. 27-34, Jan. 2013.
Affiliation Society
Cheeky Scientist Association (2018 – present)
International Pharmaceutical Federation (FIP)
Young Pharmacists Group (YPG)
Chemical Society of Japan (CSJ)