Members
Paraiso, West Kristian Dizon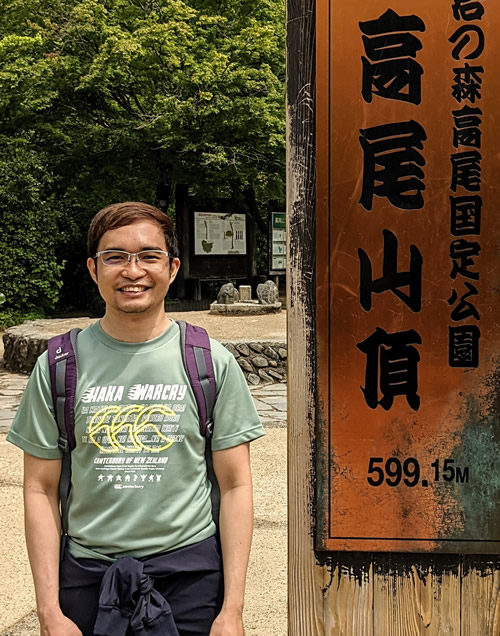 Research contents (Research key words)
Keywords
Cancer, obesity, lipid metabolism, drug delivery systems, molecular pharmaceutics
Research interest
I am an industrial pharmacist with an interest in pharmaceutical organic synthesis. Upon moving to Japan for graduate school, I shifted to nanomedicine research. My doctoral work dealt with lipid-coated gold nanoparticles for cancer photothermal therapy.
At iCONM, I am currently working with Dr. Sabina Quader on a Japan-Spain joint undertaking called COnCorD (Cpt Obesity Cancer Drug delivery). In this project, we collaborate with Dr. Rosalía Rodríguez-Rodríguez from Universitat Internacional de Catalunya (UIC-Barcelona) on developing a novel nanomedicine-based approach to fight obesity and cancer. The molecular target is the brain CPT1 enzyme expressed in glioma cells and hypothalamic neurons. The work entails the synthesis of enzyme inhibitors, the assembly of poly-ion complex micelles as the delivery platform of these molecules, and the evaluation of these systems on in vitro and in vivo models of glioblastoma and obesity.
Biography
Career Profile
2019 - present

Research Scientist, Innovation Center of NanoMedicine (iCONM)

2018 – 2019

Scientist, MediGear International Corporation

2017 – 2018

Technical Assistant, Hokkaido University

2014 – 2017

Doctoral Student, Hokkaido University

2009 – 2014

Faculty / Researcher, University of the Philippines
Performance
Publication
Quader, S., Liu, X., Toh, K., Su, Y.L., Maity, A., Tao, A., Paraiso, W.K.D., Mochida, Y., Kinoh, H., Cabral, H., and Kataoka, K., 2021. Supramolecularly enabled pH- triggered drug action at tumor microenvironment potentiates nanomedicine efficacy against glioblastoma. Biomaterials. 267, 120463. https://doi.org/10.1016/j.biomaterials.2020.120463
Garcia-Chica, J.*, Paraiso, W.K.D.* (equal contribution), Tanabe, S., Serra, D., Herrero, L., Casals, N., Garcia, J., Ariza, X., Quader, S., and Rodriguez-Rodriguez, R., 2020. An overview of nanomedicines for neuron targeting. Nanomedicine (London) 15, 16. https://doi.org/10.2217/nnm-2020-0088
Paraiso, W.K.D., Tanaka, H., Sato, Y., Shirane, D., Suzuki, N., Ogra, Y., Tange, K., Nakai, Y., Yoshioka, H., Harashima, H., and Akita, H.,  Preparation of envelope-type lipid nanoparticles containing gold nanorods for photothermal cancer therapy, Colloids and Surfaces B: Biointerfaces, Vol. 160, pp. 715-723, Dec. 2017., https://doi.org/10.1016/j.colsurfb.2017.10.027
Aniñon, A.D.A., Binos, R.S.R., Brizuela, K.M.M., Corpuz, M.C., De Luna, W.J.E., Del Rosario, R.P.S., Dimalala, J.J.C., Dueñas, T.J.P., Linatoc, I.I.B.,Recto, J.P.D., Salinas, M.V., Paraiso, W.K.D., 2014. Spectrophotometric Determination of Losartan Potassium in Tablets. Science Diliman Vol. 26, No. 1, pp. 41-52, Jan. 2014
Paraiso, W.K.D., and Alea, G.V., Synthesis and In Vitro Antimycobacterial Activity Determination of Phthalimide Derivatives. Manila Journal of Science Vol. 8, No. 2, pp. 27-34, Jan. 2013.
Presentations
Quader, S., Kataoka, K., Cabral, H., Kinoh, H., Liu, X., Shibasaki, H., and Paraiso, W.K.D., Latest Advancement of Targeted Drug Therapy using Polymer Micelle. The 79th Annual Meeting of the Japanese Cancer Association. 1-3 October 2020. Online.
Paraiso, W.K.D., Garcia-Chica, J., Ariza, X., Garcia, J., Kataoka, K., Rodriguez-Rodriguez, R., and Quader, S. Using Nanomedicine to Hijack Lipid Metabolism in Glioma Cells and Hypothalamic Neurons by Blocking Carnitine Palmitoyl-Transferase 1 (CPT1). 2020 American Association of Pharmaceutical Scientists (AAPS) PharmSci 360. 26 October-5 November 2020. Online.
Garcia-Chica, J., Paraiso, W.K.D., Ariza, X., Garcia, J., Herrero, L., Casals, N., Serra, D., Quader, S., and Rodriguez-Rodriguez, R. Development of C75-CoA-loaded polymeric nanomedicines to inhibit CPT1 in specific brain cells. NanoBioMed Online Conference (NBMO2020). 10 July, 2020. Online.
Paraiso, W.K.D., Akita, H., and Harashima, H. Development of an envelope-type lipid nanoparticle to deliver gold nanorods for photothermal therapy. Euro Bio-inspired Materials 2016: International School and Conference on Biological Materials Science. 22-25 February 2016. Potsdam, Germany.
Affiliation Society
International Pharmaceutical Federation (FIP)
Young Pharmacists Group (YPG)