Social implement Laboratories
AnGes, Inc. was founded in December 1999 based on an innovative discovery by researchers at Osaka University. AnGes already went through the first stage of research and development and is now in the second stage of commercialization. For our lead product, HGF Plasmid (gene therapy) for the treatment of critical limb ischemia, a serious impairment of blood circulation in the leg, the company has acqured in March 2019 an application for marketing approval in Japan.
HGF Plasmid
It was found that HGF has a novel function as an angiogenic growth factor that promotes the growth of blood vessels. The local delivery of DNA Plasmid encoding HGF developed a new method to regenerate blood vessels and has a high potential to become a curative medicine for ischemic patients who are suffering from deteriorating blood circulation due to clogged vessels.

AnGes,Inc. acqured an application for marketing approval for HGF for critical limb ischemic in Japan. It is the first gene therapy medicine approved in Japan.
NFκB decoy
AnGes has designed "NF-κB decoy oligonucleotide" as a specific inhibitor for NF-κB that acts as a switch to a gene cluster involved in the immune inflammatory response in the body. AnGes has been conducting research and development of NF-κB decoy oligonucleotide as a new pharmaceutical product for immune and inflammatory diseases.
Lower back pain resulting from disc degeneration is a chronic lower back pain disease that is caused by disc degeneration and other related factors. It was confirmed that NF-κB decoy oligonucleotide inhibits production of pain associated factors in the study using intervertebral disc cells. The efficacy was also indicated in the disc degeneration animal model tests. These results show that NF-κB decoy oligonucleotide can be a new therapeutic drug which has analgesic effect toward chronic lower back pain as well as possibility to be effective as a treatment for disc degeneration.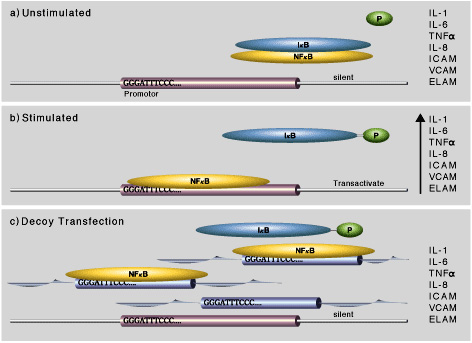 DNA vaccines
AnGes is undertaking the research and development of DNA vaccine projects as the new type of genetic medicine that utilizes its drug discovery know-how and development technology cultivated through the research and development of the gene therapy with HGF Plasmid.
DNA vaccine demonstrate the efficacy by neutralizing the action of targeted molecules by inducing antibody-mediated immunity for antigen expressed by DNA plasmid.