News&Topics
Talents grew up in iCONM #3
Open innovation research facilities such as iCONM create innovations based on the highly diversified organization and promote the growth of people through cross-cultural exchange, nurturing people with a broad perspective and integrated expertise. In this series, some of such examples will be introduced. In this third installment, we introduce Dr. Junjie Li who came to Japan from China. Focusing on an enzyme called MMP (matrix metalloproteinase), which is produced when cancer cells metastasize, he developed a nanomachine loaded with an anticancer drug that has a mechanism whereby the anticancer drug bound to polymeric nanomicelles is detached by MMP. The results were published in Advanced Materials* last year.
*papers published:"Enzymatically Transformable Polymersome-Based Nanotherapeutics to Eliminate Minimal Relapsable Cancer", J. Li, et al., Advanced Materials, 33(49), 2105254 (2021).
https://doi.org/10.1002/adma.202105254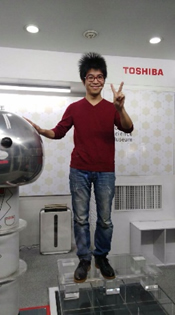 Junjie plays with static electricity
Dr. Junjie Li 李軍傑
Country of origin:Anhui Province, China
Degree:University of Science and Technology of China
Enrollment period at iCONM:2017 – 2022
Position:Post-Doctoral Researcher
Research Theme: Anticancer Drug Mounted on Cancer Metastasis Mechanism Creation of nanomachines
Present: Tanaka Lab. Soft Materials Chemistry, Institute for Materials Chemistry and Engineering (IMCE) Department of Applied Chemistry, Graduate School of Engineering,
KYUSHU UNIVERSITY
https://www.soft-material.jp/home-e
Message to the young researchers:
I have to say that I had a great time and felt very relaxed in iCONM during these five years. We feel that everything is like family here. We can get a lot of help from iCONM member and management office. We don't need to worry about the life, particularly for foreign people.
In the field of nanomedicine, I believe iCONM already has the very good advanced facilities in the world. If needed, we may collaborate with many other research institutions and universities to ensure the access to the other advanced facilities. The whole research team is organized based on multiple fields. We have chemist, materials scientist, and biologist. Very importantly, we also have a lot of clinicians participating our research. So, from the starting, we already can know we should do what kind of research for serving society and serving the patient. The research team is very international. The researchers from different countries bring distinct thoughts for creative work. The support team is also very helpful and impressive. Everything is organized nicely and ready for the research. The only important thing is we should make our brain active.
Based on such advanced facilities, multidisciplinary and international researchers, and effective support team, I want to say "we are so lucky that everything is ready for creative work. We have to get more clear evidence for the fundamentals of nanomedicine and finally get more real products for the patients".