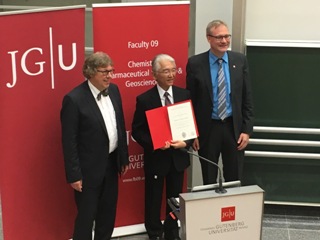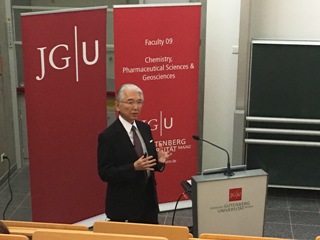 Awards ceremony was held on August 31, 2018.
Right: Commemorative symposium
Dr. Kazunori Kataoka, Director General of Innovation Center of NanoMedicine (iCONM)/ Research Leader of Center of Open Innovation Network for Smart Health (COINS) was awarded the honorary doctorate (Doktor der Naturwissenshaften ehrenhalber; Dr. rer. Nat. H. C.) from Johannes Gutenberg University (Mainz University) in Germany.
The honorary doctorate of Mainz University is awarded to researchers who have globally achieved exceptionally high level of performance. This time, Dr. Kataoka's research titled "Development of Polymer Therapeutics and Their Application to Cancer Treatment" was highly appreciated in the Faculty of "Chemistry, Pharmaceutical Science and Earth Sciences" and it was the first time in eight years for the Faculty to be awarded.
The award ceremony was held at Mainz University in August 31, and a commemorative symposium was held at the same time.